THE NEXT GENERATION OF COLORS
GROHE's Vice President of Design Michael Seum on developing the GROHE Colors range:
What role do colors play in your work?
Color is incredibly important. Having said that, if you ask ten people about their opinion of colors you get 15 different answers. We all respond to color differently. In the kitchen and bathroom, – when somebody makes an investment in color, it's not like wall paint, where that can be changed quickly. So our approach to color, finish and materials is to ensure relevance in the home for many years to come – this is what we call design permanence. The GROHE Colors collection has been carefully curated to ensure our customers have a rich toolbox and most importantly the freedom to create their desired vision.
Where do you get your inspiration from when you create a finish?
The team and I attend major design fairs globally, for example the ICFF in New York, Maison&Objet in Paris, the Tokyo and London design weeks and Salone del Mobile in Milan. So we definitely get our inspiration from the cutting edge of the design world. When we're at these design fairs, we're not looking specifically at our industry. We look at movements within the home sector, like the furniture industry. And then we're responding to that with this selection of colors and finishes. With our range of colors, we want consumers to see that they have unlimited design flexibility with our collection. There's a lot in the industry where they just pick up on a trend but fads and fashion quickly disappear. Even the quality is poor. At GROHE, we have a more balanced approach. When you buy a GROHE product it's about quality, technology, sustainability and design. You know this color and finish is on the cutting edge of interior trends and at the same time it will last, due to our higher quality standards.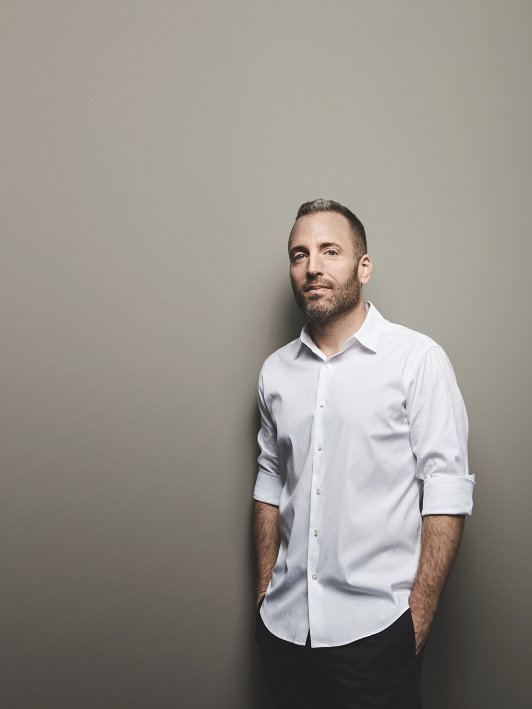 THESE NEW OPTIONS ARE AN INCREDIBLY RICH TOOLBOX FOR THE CREATIVE MIND
What differentiates the GROHE Colors collection from color, as we typically perceive it?
We could have gone after colors that were not such long-standing trends. They might be around for one or two years. But the problem there is when you're working with bath interiors, these are fixtures – once installed they are there for a long period of time. We have to be really selective around the appropriateness of the color and how it's used. And I think there are other areas, where if you wanted to bring color into the bathroom, you can do that – with lighting as well. That's why we've taken an approach where the color is a long-standing trend. And we've seen the warm finishes now year after year, in Milan and London. It's now an accepted color and finish strategy. But it's not to say that we won't have more unique finishes coming up during the process of developing the next generation of colors.
How has the use of colors in design developed over time?
I think color has always been part of the interior design world, but it has evolved over the years. One thing we're seeing from our visits to the design fairs, is that year after year, the warm colors come into the home. That is now an established design trend that came more out of the Nordics first, but is relevant everywhere now. Globally, colors develop differently. The US market is very color-centric, but leans more to the classic colors. Asia is also very color-oriented. The Middle East loves the warms and the golds. And in Europe we've seen the warm colors come in but also the Brushed Nickel and Graphite are inspiring many designers. I think the use of color has taken off differently. The challenge here is we had to put together a palette that works around the world. And with the new colors and finishes we've been able to achieve that.
How do colors influence the way we perceive the bathroom?
I think the way color, finish and material impacts the bathroom is that the faucet becomes the jewellery – the accessory for the interior designer. It's another way to add a level of detail and quality to interior design features. And our colors have been selected and curated in a way that allows you to almost do anything you need to with them. So if you want high contrast, mid tones or low contrast, you can really use your colors to influence the outcome. This is a palette that gives you the complete flexibility to work with.
And what about the kitchen?
Most kitchens are white. The way consumers add color is through accessories – like toasters, blenders, coffee makers – because they can put them on the counter and take them away. So we thought, if someone had that red iconic kitchen mixer then they're more likely to take that vivid red hose of Essence. But there's really no risk in that because they can upgrade it, they can change it easily. In the bathroom, we've taken a slightly more refined approach, because there isn't yet a quick way to accessorize with color. All of the GROHE Colors collection work in the kitchen and in the bathroom very well.
Do you have a personal favourite amongst the GROHE finishes?
Yes, the Brushed Hard Graphite. Which is, by the way, the most sophisticated finish we have right now. I'm in the process of redoing my kitchen all black-on-black and I'm going with that finish.
What are the rules for choosing finishes for the bathroom?
To be honest, there are none. I think we're in a day and age where designers are much more free to do what they want. With our opened up color and finish options in this collection, we've given them no rules. There are just endless possibilities to work with here. If I had to suggest one rule, it would be to coordinate the finishes. Because there's nothing worse than going into a space and having a different color faucet, a different color shower, a different color towel holder. And with GROHE Colors collection you get the full coordination of whatever color and finish you need.
What can you tell us about the interactions of shapes, surfaces and finishes?
The way we've articulated this design range to the design world is: you have three types of environment. You have high-contrast environments and you have tone-on-tone environments. And in the middle you have mid-tones. Let's say I was designing an all-black bathroom. I have more or less some options. But if I wanted black tile on the wall, I could pick the opposite of it, which would be chrome to give it a more contrary contrast finish. Or if I wanted the whole bathroom to be a soft matte finish, I can use the brushed surface. So in terms of the interactions of shapes and surfaces, it all depends on what the interior design strategy is. But that's why we've offered a polished and a brushed finish to give you that flexibility in your interactions. And this rings true for all colors, available in polished or brushed.
Can you give us an example?
When I say the word 'vintage' you think of the brushed gold, but when I say 'luxury' you think of the polished gold. It's the same color, it's just a finish difference. By just changing the finish, I can give you a different verbal cue of vintage vs. luxury. The reason we have a brushed and a polished is to allow the ultimate flexibility between the interior strategies.